Welcome to My Scout Stuff - a Resource for Scouters about Boy Scouting!
When you take just a minute to look at the last text message on your own wireless device, consider whether it would be worth causing a serious accident, possibly one that could take a life... or several lives. When you look at it this way, there's no text that can't wait.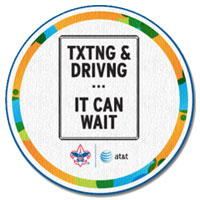 Go to the BSA It Can Wait app on Facebook and

then pass it on to your friends.
Help put an end to texting and driving!